Stackpole - update #3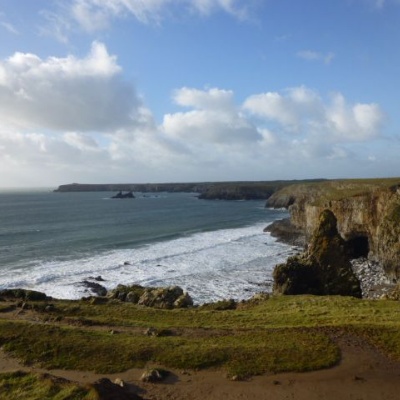 The children continue to be very settled and are all having a fantastic time.
A good night's sleep was had by all, with all children settling well. One group of boys slept SO well, they were still all fast asleep quite late in the morning and Miss French had to wake them for breakfast!
On Tuesday, the children completed the dramatic coastal walk, walking from the Centre to Stackpole Quay, Stackpole Head and Barafundle Bay. Although it was blustery and tricky to walk in a straight line at times; the children have learned lots about layering clothes and waterproofing in order to keep dry as well as exploring a range of coastal features (from a safe distance, of course!)
The children also tackled the climbing wall, a natural slate wall situated on the edge of the Stackpole Estate. Each child persevered and climbed further than they originally thought they would. This is a huge achievement and one which they should be very proud of.
Tuesday evening consisted of a supper of pasta, Bolognese, tomato sauce, garlic bread and apple crumble and custard – most managed second helpings. The children then played supervised indoor games (to allow their waterproofs to dry!) before a little diary writing and bed.
Wednesday's daytime activities are being planned in line with the weather forecast, although tonight the children will face the famous 'Nightline' – a natural course where the children will work as a team to navigate a planned course whilst all blindfolded. I imagine that they will all end up very muddy!
The children have apologised that their postcards may be a little late in arriving on your doorstep; they are so busy having bundles of fun that they have not yet managed to squeeze in a little postcard writing.