Tuesday evening update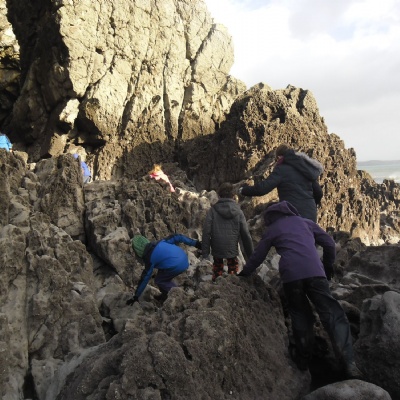 The children are doing brilliantly and tackling each activity with humour, positivity and gusto!
Everyone enjoyed their coastal walk, stopping for a little while to have a play at Barafundle Bay. Whilst the rock face was challenging, everyone had a go at rock-climbing and some even managed to scale it twice! Pembrokeshire was blessed with beautiful, sunny weather yesterday which meant that everyone was able to have their packed lunch al fresco.
After a dinner of baked potatoes, cheese, tuna, salad, baked beans etc. and cake for pudding, the children took part in the night line. They all had to navigate a hilly obstacle course (including low tunnels) whilst blindfolded. Luckily, it wasn't too slippery! The teamwork was impeccable and they all really enjoyed it.
Postcards have been written and should be landing on your doorstep shortly.
The children are exhausted, but happy. No showers have been had yet – they are too busy having fun! We promise that we will return them clean (ish!) however and will encourage showers at some point today!
The plan for Wednesday is woodland orienteering for both groups followed by mountain biking for one group and rock-pooling for another. I hope they have remembered their rubber gloves!
The children will be having an extra pudding tonight; there is a birthday celebration in Stackpole today which means extra birthday cake for everyone!