World Book Day 2019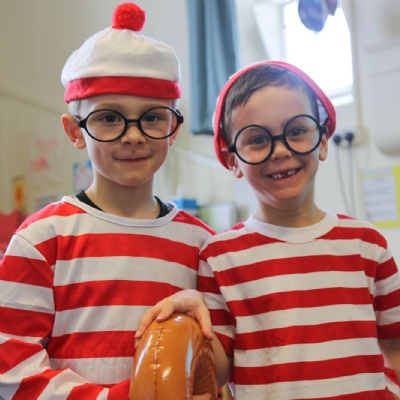 Thursday 7th March was the 22nd anniversary of World Book Day and to celebrate the whole school took part in lots of things "booky"!
**update Monday 11th March**
What a fantastic variety of characters the children came to school as for World Book Day. Thank you for all the donations of cakes, the sale of these along with voluntary mufti contributions has raised £247.25 for our chosen charity 'Read for Good'.
Activities on World Book Day included:
Book character mufti - Come to school dressed in mufti as your favourite book/poem character or author. You might choose to be Elmer, the Gruffalo, or you could be Max from Where the Wild Things Are and come to school in your pyjamas. The possibilities are endless! We will collect voluntary donations of £1; all proceeds will go to the Read for Good charity.*
Story themed biscuit/cake sale - Why not get creative and bake some story or character themed cakes and biscuits? These will be sold in classes immediately before morning play and cost 50p. Any baking contributions are very welcome with proceeds from the cake sale again going to the Read for Good charity.
Reading in class with your child - Parents are most welcome to come into class to share a book with their child from 8.45am – 9.00am. It would be lovely to see you there.
Story carousel - The day will end with all teachers reading one of their favourite stories … but to classes other than their own!
World Book Day whole school home learning: 20 'booky' things to do as a family - For home learning during the week of World Book Day, please look on the class homework pages for the list of 20 'booky things' to do as a family.
World Book Day tokens - Each child will be given a £1.00 World Book Day token. There are lots of specially written books for all ages and interests that only cost £1.00. Have a look at www.worldbookday.com for the full range of books on offer.
Useful websites - Explore the web links below for even more great ideas for World Book Day.
www.booktrust.org.uk
www.puffinvirtuallylive.co.uk (includes films of authors reading excerpts of their latest books. This is kept very up to date.
www.nationalpoetryday.co.uk
www.bookaid.org (Book Aid International)
*Read for Good charity
"Good books are as important as good doctors when you are in hospital. One makes your body better and the other your soul." Adam Bojelian
Our World Book Day charity for 2019 is Read for Good. This charity provides a regular supply of brand new books and storyteller visits to brighten up the days of children in all of the UK's main children's hospitals. These include Bristol Royal Children's Hospital and Great Ormond Street Hospital. For children in hospital, books and stories are particularly important – they comfort, distract, reassure and entertain. Children unable to leave their beds can choose books from specially designed mobile bookcases which wheels right up to their bedside. Because they are brand new, the books are safe for those at high risk of infection.