Interfaith Week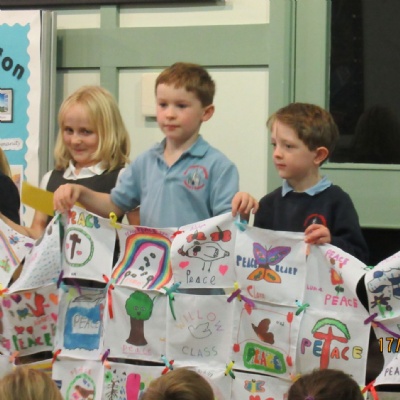 This week, all classes have greatly enjoyed our whole school interfaith week focussing on the question 'What do different religions and worldviews say about peace?'. It has been a fantastic week where RE has been taught through a range of art, drama, creative writing, class discussions, explorations in the school grounds and even PE, with inclusion of yoga and tai chi.
It has been amazing to see the children making links within and between religions, looking at inner peace, peace within communities and world peace. Links have also been made to worldviews, such as humanism, and to beliefs of people who identify as having no religion. One of the most impressive things was how respectful the children were of all views, and their understanding of the importance that everyone has a right to their own beliefs.
The climax of the week was a whole school assembly celebrating our learning.
Ash Class recited a poem about the children of peace- adorably in sync.
Oak Class shared their peace pledges- pledging a range of things from following the school rules to looking after the world.
Willow Class made a beautiful peace quilt by joining together their symbols of peace.
Beech Class shared a performance of a peace song they had written- and dance too!
Chestnut Class shared their posters explaining different religions and their view of peace – so detailed.
And Sycamore Class explained the actions that people from different religions are making to support community cohesion- with cross stich peace symbols to finish this afternoon!
It was so great to see how each class have enjoyed the week and how one question can be taken in so many different directions. We wait to see what next year's interfaith week brings!