Harvesting our Vision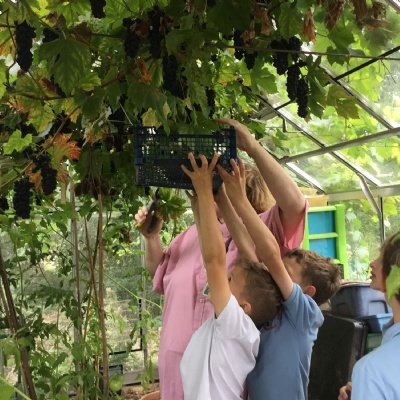 This week has been all about harvest: thinking about the farmers and how they are responsible for harvesting crops, harvesting our own crops in the school garden and celebrating Harvest Festival in the church.
Thank you so much for your donations for the Harvest Festival. It was a wonderful sight to behold watching the trail of children juggling their partner's hand in one hand and a tin in the other. Clair said that it was the most donations received to date - taking up the space of four pews and (for the first time) an extra table as well. They will be collected by The Sisters of the Church and distributed throughout Bristol.
Truly one of the highlights of the week though has to be making fruit salads. It was a twist away from the traditional pizza this year, due to the bumper crop of apples and grapes in the school garden (sadly the pears didn't fair quite so well). Each group of children harvested their own apple and then were responsible for chopping it into bite-size chunks, along with pear, raspberries and grapes. The children were incredibly sensible and were explaining the importance of keeping their fingers out of the way; some explaining tips learnt at home such as 'keep your hand on top of the knife'. Resulting in the complete absence of the need for plasters (and only a couple little nips). Never before have I seen such happy faces and clean bowls; as when all the fruit was eaten, the children tipped up the bowl and took a deliciously long slurp of the orange juice. Lipsmackingly good!
We have been relating our thoughts this week back to our school vision of plant, nurture, flourish, serve. Literally, in terms of planting seeds and then this serving as food, and abstractly, thinking back to what skills we can nurture at this point of a new year. We are all at the beginning of a new journey and we can't wait to see what will flourish this school year!