The WONDERFUL Wizard of Oz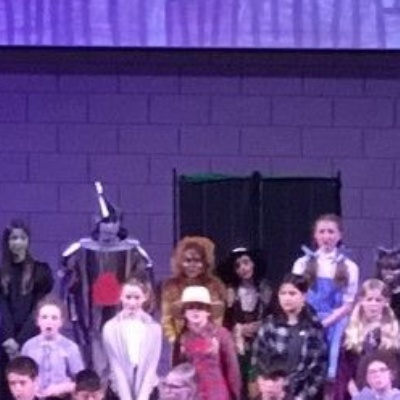 The audience was left spellbound by our incredible KS2 production of The Wizard of Oz. The performances of the children were absolutely outstanding; it was hard to believe at times that we were watching 7-11 year olds.
Dorothy was on stage for pretty much the entire play and had so much to learn! Her hard-work and dedication shone through. Her song with Aunt Em was sung beautifully by both and brought a tear to many an eye. Uncle Henry, Hunk, Hickory and Zeke brought their farming characters to life as well as the play to poignant end. Professor Marvel scammed us all with her mystical and mysterious 'visions'. I don't think even she would have seen such a big of a success.
The lights, sights and sounds of the cyclone were dazzling as we were transported into the magical Munchkinland, full of a fabulous chorus of munchkins and officials!
Scarecrow had a cheeky smile throughout in a performance that lightened all of our hearts, especially when she was faced with those pesky crows!
Tin man looked amazing and sung and performed his 'newly found' heart out. His upbeat spirit was wonderfully contrasted by the grumpy and surly apple trees. I don't think I would want THOSE apples.
Lion had so much courage and I think we were all bowing to her at the end of her very difficult, but perfectly performed solo. No tears from us- even if she had quite a few along the yellow brick road!
The jitterbugs routine was fast-paced and intricate and had us all transfixed.
Then we were moved through the gates to a very merry land of Oz- with guards whose speeches had us all sitting up a bit straighter. And we met the wonderful wizard, who transformed very cleverly from 'the great and powerful' to just a very bad man- sorry, that's good man, bad wizard.
Speaking of transformations, I don't think it was any surprise that Miss Gulch became a wicked witch: I definitely would not want to cross her!
The witches had their characterisations absolutely perfectly. Glinda, fair and ethereal, with a warm, friendly and beautiful song. The wicked witch, absolutely terrifying, with a laugh that will haunt many a nightmare. I think we were cheering along with the Winkie Guards and flying monkeys at her timely demise.
And whilst everyone impressed us with their clearly spoken lines, perhaps even more difficult, is to perform without any speech at all. Toto and Niko both did incredible jobs conveying their intentions without speaking any words at all- just through expressions, tone and actions.
Some might find performing in front of an audience intimidating, but the children absolutely thrived on it and the performance on the big stage at the Wiltshire Music Centre was definitely the best they had ever performed; something that they and their loved ones can hold in their memories for many years to come.