Spring into sport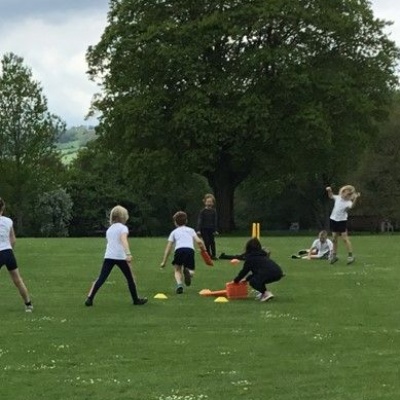 The spring sunshine has been warmly welcomed this week. One of the highlights of the return of the better weather is the reoccurrence of PE lessons outside on The Rec. Athletics, cricket, rounders and lacrosse are firm favourites at this time of year, for children and teachers alike.
Beech Class have been showing off their cricket skills this week, playing diamond cricket. In this version of the game, there are 4 batters stood in a diamond formation, The bowler can choose which batter they bowl to; this means that the batters have to be alert the whole time. No problem for Beech Class, who were rocketing runs and smashing sixes all over The Rec. The batters didn't have it all their own way however, as the fielders showed some heroic catches. Some said that fielding was their favourite part, as they were completely involved in the game and had to be ready at all times in case they could stump someone out. It wasn't only fielders getting people out though, as one batter managed to get another out by hitting the ball directly at their stumps (accidentally of course!).
And this week couldn't finish without a massive congratulations to our Year 6s, who impressed us all with their determination and perseverance this week. Some even wanted a test week every week as they loved their afternoons of PE in the spring sun.