Rain free reign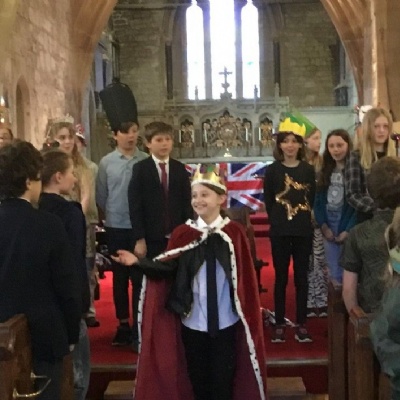 We welcomed in the reign of King Charles III in style this week. And were very pleased that celebrations were not rained off!
Children looked amazing in their party clothes and home-made crowns, and boy, were we dressed up for a celebration.
Chestnut Class transformed St Thomas A Beckett Church into Westminster Abbey with their fantastic assembly. They took us step by step through the coronation and the symbolism behind the key events. A multitude of 'Archbishops of Canterbury' offered the new 'king' the coronation regalia before 'he' was officially anointed. The 'king' was then crowned to the crowds cheering 'God save the king!'. A firm favourite of the watching crowd, the 'king' then took a parade of honour, waving heartily to 'his' adoring people.
Despite fears that rain would spoil plans, the coronation picnic took place in glorious sunshine. Like a true street party, the children took to the playground and enjoyed the company of whoever they chose to sit next to; whilst also enjoying a delicious packed lunch (especially those dough balls)!
Gasps of excitement filled the air as it was announced that everyone would take home their own coin keepsake to forever remember this special occasion.
Wherever you are, whatever you're doing, here's to a joyful bank holiday weekend, hopefully, also free from rain!