5, 4, 3, 2,1, Blast Off!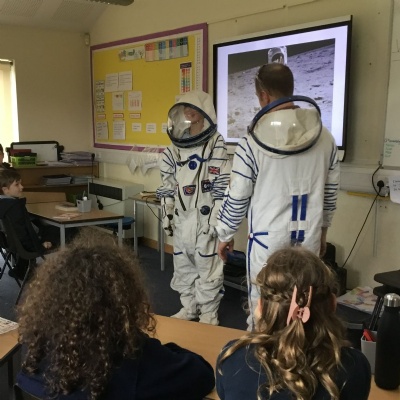 Where to start this week?! It has been a whirlwind of activity. Let's blast off into a journey of the week.
Oak, Willow and Sycamore Class enjoyed their annual Walksafe visits. The classes were taught how to stay safe when walking and cycling near to, or across, roads. The hall was transformed into a roadway, complete with crossings for Oak Class. They were cars and they were pedestrians, learning about the different types of crossings and how to use them safely. Willow Class ventured onto the roads outside of the school - learning practically. They were incredibly sensible, one group a little bit soggy with the rain, and they are ready to keep themselves safe.
Sycamore Class were also treated to an astronomy visit: an astronaut came to visit both Sycamore and Chestnut Class, teaching them all about the space, complete with some explosive experiments and mind blowing facts. Did you know that vacuums don't suck in air- the air is actually pushed in by air pressure?!
Beech Class led a wonderful assembly on Friday. The message clear- kindness doesn't cost anything apart from time. Beech Class have all been spreading kindness and earning kindness badges this week: from helping others with their learning, caring for others who are hurt or even finding Mrs Stevenson's glasses.
Choir performed at the Mid-Somerset festival this week and were completely outstanding! They even gave a performance to the whole school where an encore was begged for.
And if that wasn't enough, Willow Class also went on a trip to the Bristol Museum. They were mesmerised by the crystals and intrigued by handling Egyptian artefacts.
Phew! What an adventure! Something tells me that next week is going to be just as exciting!