Something for the mummies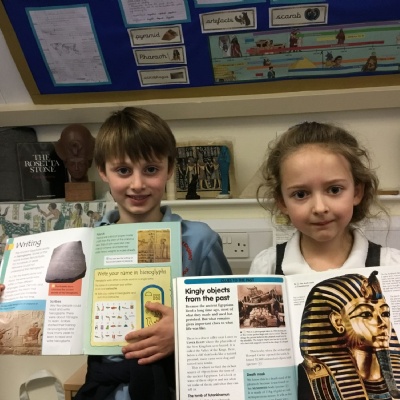 Willow Class are thoroughly enjoying their topic of Ancient Egypt and there's no de-Nile about it. Not only are they learning to read and decode English, they're also amazing us with their ability to read and decipher hieroglyphics! Who knew that one of the symbols denoted a woman and another represented 'th'? One incredibly ambitious member of Willow Class has recreated the Rosetta Stone - now we can all go into Willow Class and be hieroglyphics experts just like them!
If you speak to a member of Willow Class and are a fan of a grizzly tale, then ask them about the story of the God Osiris. I warn you, I don't think that this would make a good bedtime story! Though, it may make the children think twice before arguing with their siblings! (Spoiler alert- it ends with him being turned into a mummy).
I, and the rest of Willow Class, can't wait to see where else their learning takes them this term! However, Mrs Iacono doesn't think it would be phar-aoh to share just yet.