Merry Christmas!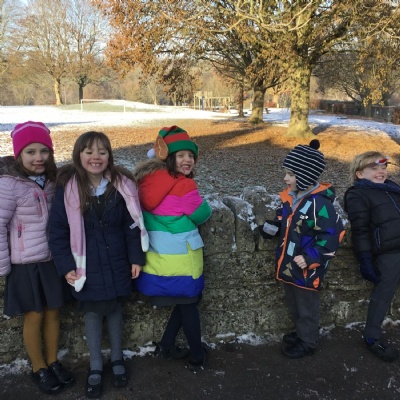 It's been an incredibly frosty week and the children were very excited to have snow! We've been wrapping up warm to play out in minus temperatures, though a whole school conga was necessary to keep the chill out on Friday!
This week, the school has been incredibly busy with Christmas celebrations.
Each class has had a Christmas party, causing both the hall and the Selwyn Hall to be rocking to Christmas classics (Last Christmas was a definite favourite). Favourite games like musical statues, Christmas corners and, for KS2, Empire were played and enjoyed by all (even the teachers!).
Not enjoyed as much as the Christmas lunch though! Thank you so much to the kitchen team who prepared no fewer than 135 Christmas lunches, complete with all the trimmings! Very little food went to waste and none of the delicious puddings (especially when the teachers were involved).
And no Box Primary School Christmas is complete without a carol service at the church. Sycamore Class led the service through story telling, reflections and prayers and the school choir blew us away with their carolling. A very merry beginning to the Christmas holidays!