Expeditions to the past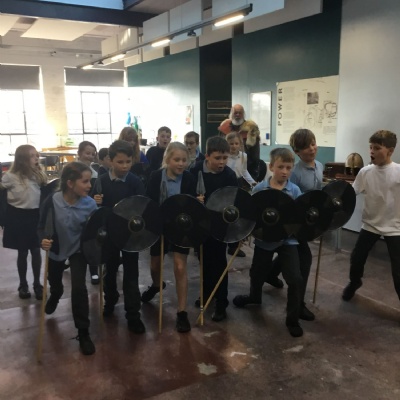 We have had an amazing start to the new term - with not one, but two incredible class trips!
Beech Class started us off with their trip to the Bristol Museum. They were historians for the day, exploring and learning based on their topic of Ancient Greeks. They were using skills that you may have seen on archaeology TV shows: like looking at sherds (yes sherds) of pottery and working out what it may have been used for and if it was ancient or replica and asking questions of artefacts to deduce what they are. Who knows, maybe we'll be marvelling at their expertise one day. But it wasn't all work and no play - they also had plenty of time to explore the museum and be amazed by the fascinating wildlife, beautiful gems and see a work by Banksy- even if Mrs Stevenson thought that it had been ruined by protestors when it hadn't: the paint pot is part of the art!
Not wanting to be outdone, Chestnut Class then had their own trip to Trowbridge Museum. They were immersed in the world of Anglo-Saxons. From trying on tradition Anglo-Saxon costumes and jewellery, to experiencing traditional Anglo-Saxon weaving, to exploring maps from the period of Box and Ditteridge- the day was absolutely jam packed! They were even trained in the art of Anglo-Saxon warfare: learning the art of the spear and the sword. So be warned if you upset anyone from Chestnut Class, they are drilled to precision! Finally, they were instructed in how to throw a javelin. Miss Long suffered for the art as she stood behind the target to get a good photo- she apologises if the photos are a bit blurry, apparently there was plenty of ducking and diving.
I hope that everyone had a restful half term break as this term has started how it means to go on - with plenty to keep everyone busy and engaged!